Teppei Japanese Restaurant
TEPPEI JAPANESE RESTAURANT is a chain of restaurants and takeaway counters across Singapore. Teppei Japanese Restaurant is one of the Three Best Rated® Japanese Restaurants in Chinatown, Singapore.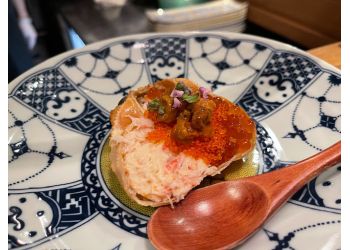 They serve yummy barachirashi and other popular Japanese dishes. They provide overall quality of food is excellent. The staff will introduce the ingredients of each dish when serving. The staffs are courteous and responsive. They provide all their dishes at an affordable price. They have good experience and have prepared all the foods deliciously. They provide great service to the customers. The chefs introduce every dish, make light banter and are kind enough to help you chill. Teppei Japanese Restaurant is a 22-counter seater restaurant, and the restaurant is located at Orchid Hotel along Tras Link. Each dish is packed with flavour and texture, which is surprising to eat. They prepare all the food using fresh ingredients. Teppei Group of Restaurants has a lovely ambience and pleasant atmosphere. Call them to place your orders and enjoy it with your family.
MENU: Single Tempura Prawn

Smoked Mullet Roe

Japanese Steamed Rice

Miso Soup

Donburi

Rice Bowl

Maki Sushi

Nigiri Sushi

Calamari

Cheese Tofu

Unadon

Beef Teppan

Fresh Sashimi

Kaisen Don

Omakase

Rainbow Barachirashi

Sashimi

Scallop Barachirashi

Sweet Scallop

Tuna

Saba Shioyaki Don

Teppan Sake Don

Tamago Shoyu Ramen & Drinks
Atmosphere was relaxed, casual and staffers kept the friendly banter all around. For a little over $140 (per pax), we were served a whopping 16 dishes, including an appetiser, monkfish liver, oyster claypot rice, a 4-pc sushi main and a scoop of ice cream. Our favourites for the night were cold noodles with umi and tuna sushi roll (served 2-ways) with bits of crunchy tempura. Reservation tip: Booking for the following month opens at 9am every 2nd Saturday.
Food was great! The chefs introduced every dish, made light banter and were kind enough to help us chill our sake (which we paid corkage for) - and even allowed us to indulge in a bit more ice cream at the end of the meal. Really enjoyed the foie gras monaka, but do note the menu is seasonal and will change.
A really decent and affordable 17 course omakase. When serving each dish, they will explain the elements in the dish. Each dish is packed with flavour and texture which was really surprising to eat because you would not expect the ingredients to go well together.
MAIN MENU:
Kaisen don/Bara: S$15.1
Negitoro Kaisendon: S$16.1
Uni Kaisendon: S$21.2
Prawn Kaisendon: S$17
Nodoguro Kaisendon: S$21.2
Unagi Kaisendon: S$17
Scallop Kaisendon: S$17
Salmon Kaisendon: S$15.2
Aburi salmon Kaisendon: S$16.2
Aburi Salmondon: S$16
Negitorodon: S$17
Beef tataki Kaisendon: S$17
TOPPINGS:
King prawn tempura: S$8
Oyster: S$5
Fatty tuna belly 2pcs: S$5
Samon Belly Sashimi 3Pcs: S$5
Mon-Fri: 11:45am-2:30pm|
6:30pm-10:30pm
Sat: 12pm - 2:30pm|
6:30pm - 10:30pm
Sun: Closed
Other Japanese Restaurants in Chinatown: