Real Food
Real Food is a prominent vegetarian restaurant in Yishun, SG. Real Food is one of the Three Best Rated® Vegetarian Restaurants in Yishun, Singapore.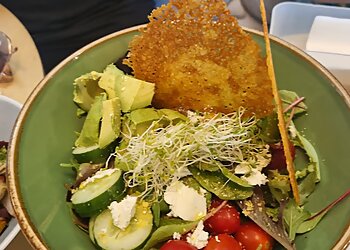 They aim to serve high-quality and mouth-watering dishes at a reasonable cost. They offer a mix of western style options like burgers, pasta, pizza, noodles and rice dishes. Their food items are prepared without chemical additives, colours, and preservatives. They offer vast choices of breakfast and snack varieties. Don't forget to try their soup varieties Tom Yum, Miso, Onion and, Leek, Kombu Shiitake. Real Food has some beverages after completing your meals. Dine-in, takeout and online order facilities are available at Real Food. The restaurant is an ideal destination for all your gatherings.
MENU: Potato

Juices

Salad

Fruit Rojak

Deep Kettle House Chili

Burger

Dumplings

Drinks

Tom Yum

Fried Vermicelli

Mushroom And Celery Penne

Egg Fried Noodles

Three Bean Turkey Chili & Desserts
Very nice ambience, nice scenery. Though located in the residential park, it sure has a strong blend between nature and Tzu Chi humanistic youth centre. The food is wholly vegan, or vegetarian. The western food is more for young ones as their teeth are stronger. The drinks, especially fruit/veg juices are served fresh and tasty. A good place to hang out alone or with friends.
Great food and great ambience! Packet back and the food still taste pretty good. But still will prefer to dine in as the vibes there is really good. Tried the all day breakfast English muffin meal, sourdough bread is so softer than it looks. Also the portobello burger taste pretty good with the onion rings and potato salad as the sides.
The food taste fabulous. Quiet and peaceful place. In the morning, there's a lot of people having coffee/tea outdoors with park view
Breakfast Dishes Starts from S$10.80
Salads Starts from S$10.80
Soup Starts from S$9.50
Rice and Noodles Starts from S$9.80
Snacks and Sides S$6
Burger Starts from S$14.80
Pasta Starts from S$10.80
Pizzas Starts from S$15.80

Nearby Vegetarian Restaurants in Yishun: