LocoMotion Clinic Pte Ltd.
LocoMotion Clinic is a well-known physiotherapy and wellness clinic specialising in musculoskeletal and orthopaedic conditions. LocoMotion Clinic Pte Ltd. is one of the Three Best Rated® Physiotherapy in Outram, Singapore.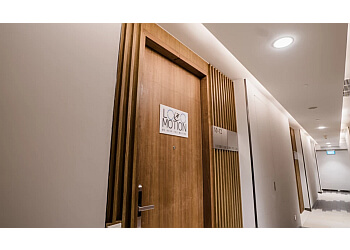 They aim to keep everyone moving and pain-free. Their physiotherapists are registered with AHPC (Allied Health Professions Council). Their experienced staff is dedicated to providing you and your family with personalised, effective, state-of-the-art rehabilitation that gets you back to your normal, active life. They also work hand in hand with their pilates instructor for patients referred to their pilates program. The clinic offers flexible appointments to meet the unique needs of the patients.
Back

Hip

Knee Pain

Frozen Shoulder

Core Instability

Running Injuries

Rehabilitation Exercises

ACL Sprain Tear & Hip Pain
Great services and superb attention, willing to listen and also find the best solutions to ease my pains. Definitely recommend anyone who is looking to get better from any pain that one might be suffering from.
Made a last minute booking to work on my chronic pain and was well helped. Needling skills are top notch. Jing Yi is very knowledgeable and patience with helping thru the process. Friendly! Highly Recommended! Amazing Location!
Very pleasant experience. Helped me understand the specific parts of my body that was aching and hurting. Thank you very much!
Initial Assessment (60min) S$160
Standard Follow-up Consultation (45 min) S$160
Express Consultation (30 min) S$100
Mon-Sat: 9am - 7pm
Sun: Closed
Nearby Physiotherapy in Outram: