Healing Health TCM Therapy Pte Ltd
'Healing Health TCM Therapy Pte Ltd' specialises in health, beauty and body wellness. Healing Health TCM Therapy Pte Ltd is one of the Three Best Rated® Traditional Chinese Medicine in Outram, Singapore.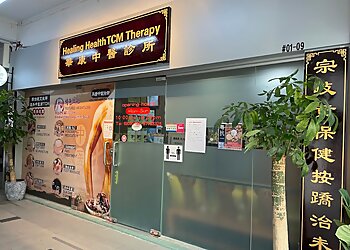 Wen Wen founded healing Health TCM Therapy clinic in 2016. Their team of registered TCM physicians and skilled therapists are experienced in giving medical consultations and treatments. They provide TCM, tuina, acupuncture, guasha, cupping, and pain management treatments. Their mission is to help thier customers regain balance for a healthier and happier self. 'Healing Health TCM Therapy Pte Ltd' is grateful to be continuously supported by customers who value health and wellness.
Head

Knee and Leg Therapy

Neck

Shoulder

and Waist Pain

Acupuncture

Moxibustion

Cupping

Scraping

Massage and Slimming Treatments

Chinese Herbal Hot Compress

Local Pain Treatment

Weight Loss

Bone Wound Dressing & Gastrointestinal Maintenance
The awesome massage experience and services has won me as a loyal customer for more than 5 years since this shop opened. The Tui Na massage hit all the right spots to relieve the stress instantly and improve my sleep. Kudos to the therapists at Healing Health TCM.
The therapist Wenwen was very knowledgeable and focuses on my back which was stiff during the Tui na and she got alot of strength! Had a great massage and cupping session! My back feels better after a day. Definitely recoomended and will go again soon.
Just $58 per hour for a oil massage. This place is very clean and the ambience was good. Chinese Traditional massage by skilful masseurs. I had Jade and will return again soon.
TCM Consultation
Chinese Medicine Consultation:S$10 per session
Chinese Medicine:S$10-S$12 per day
Acupuncture:S$40 per session
Moxibustion Therapy:S$38-S$48 per session
Other Traditional Chinese Medicine in Outram: