Eagerbeaver Schoolhouse 2 Pte Ltd
Eagerbeaver Schoolhouse 2 Pte Ltd is a full-day Child Care and Development centre for pre-schoolers. Eagerbeaver Schoolhouse 2 Pte Ltd is one of the Three Best Rated® Preschools in Bukit Merah, Singapore.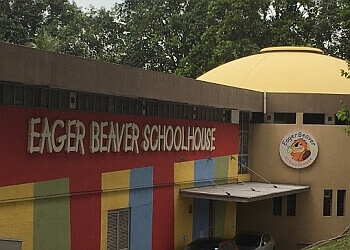 They provide quality childcare services and programmes in a loving environment of acceptance and security. They are passionate about children and love to see them grow and learn. Their warm and caring teachers make all the difference to a child's learning experience. Their integrated curriculum further exposes children to Speech & Drama, Phonics, Hanyu Pinyin and Computers as extended platforms for learning and development. They emphasise values and character building which sets the foundation stones for success in the growing years. Eagerbeaver Schoolhouse 2 Pte Ltd also consult for organisations in the set-up and management of children's development services.
Phonics

English Speech and Drama

Chinese Speech and Drama

Baby and Toddler Programs

Swimming Lessons

Sports

Music

Science & Art
Thank you Ms Sharon and everyone at Eager Beaver for journeying with Shane and Nadya and us as parents too it's the best decision we have made to put them under your care. Thank you Teacher Yiyi and Restine for the impact I made in Nadya's development, lots of blessing and love to everyone.
We are happy parents sending our kids at Eagerbeaver Schoolhouse.The best Child Care Centre ever.The Principal,Admin,Teacher,Cleaner and Student are very friendly.Thank You EagerBeaver. From Lily&Aaron Parents.
The clean environment, the lovely aunties, the cute little angels and their superb guardians................
Mon - Fri: 7:am - 7pm
Sat: 7am - 2pm
Sun: Closed
Nearby Preschools in Bukit Merah: