BANYAN TREE Tiong Bahru Student Care
Banyan Tree Tiong Bahru Student Care is specially catered for students between 18 months to 16 years old. BANYAN TREE Tiong Bahru Student Care is one of the Three Best Rated® Preschools in Bukit Merah, Singapore.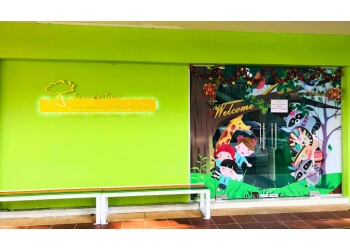 They aim to stimulate students' creativity and promote learning interests through various multi-media technology platforms & dynamic interactive teaching methods. Their goal is to ensure that children who graduate from their Kindergarten programme enjoy a smooth transition to primary school. Apart from offering good service, a conducive environment, and nutritious lunch, they also provide a team of dedicated teachers, excellent scheduling and various attractive courses. BANYAN TREE Tiong Bahru Student Care's curriculum is holistic and comprehensive. They have developed a world-class curriculum that focuses on left & right brain development based on early childhood development research & methodology. Their teachers are ECDA qualified & have professional child care and teaching diplomas. They communicate frequently and regularly with parents to facilitate childhood development.
Language

Phonics

Hanyu Pinyin

Vocabulary

Drawing

Sentence Construction

English

Math

Chinese

Gym

Music

Creative Arts

Speech & Drama
My son is currently with this centre for past 2 years+. He likes teachers there and he told me that he loves the place and lunch there very much. I do appreciate efforts of teachers. They teach and giving assignment to do during the hours, which helping working parents much.
The centre is a child-friendly environment for children and teenagers. It has toys for children to play with and at the same time many assessment books to do. The teachers are very nice and they will give food :)
The teachers are caring towards the students. Apart from general well-being, the centre provides well balanced curriculum. A place that is homely for my child and give a peace of mind for working parents.
Mon-Fri: 9am - 9pm
Sat: 9am - 6pm
Sun: Closed
Nearby Preschools in Bukit Merah: