Alora Preschool Childcare & Infant Care Centre
Alora Preschool Childcare & Infant Care Centre is fully-accredited childcare and infant-care centre that has a safe, secure & stimulating environment. Alora Preschool Childcare & Infant Care Centre is one of the Three Best Rated® Preschools in Bukit Merah, Singapore.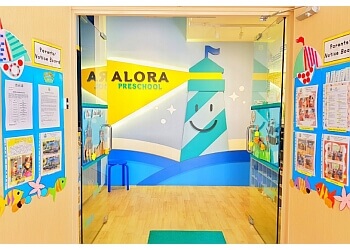 They offer full-day care and education to children ages two months to 6 years old. Their children explore, learn, play, and grow, and parents become friends. The school has an ECDA-approved Early Childhood Development Centre, and is part of the KidsCampus Group of childcare centres where fun learning experiences are shared every day. The preschool only hires certified, experienced, skilled and dedicated teachers. Alora Preschool Childcare & Infant Care Centre follows a theme-based and activity-based curriculum. They actively seek opportunities to collaborate with local bodies and participate in communal activities.
Physical

Social

Emotional

Intellectual Development

Learn

Play

Talking

Day Care

Preschool

Mathematical Awareness

Listening

Summer Camp & Spring
Our 2 daughters have been enrolled in Alora since 1st day of nursery and our eldest will be graduating from K2 this year after 4 happy and enjoyable years with Alora. Teachers have been wonderful and staff turnover rate low, which is a testament to management's handling of staff's welfare and well being. There are frequent events organised and the centre strikes a good balance between academics and group play. The kids thoroughly enjoyed their time at Alora preschool and we are thankful to the amazing teachers and management for providing the kids with a joyful and conducive learning experience.
Best facilities for infant care! Equipment and facilities were all brand new and are all high quality with reputable brands. Teachers were also very sweet, caring and professional with handling babies. They were great with feeding and bathing him as well as allowing my baby to explore new sensory learnings! Highly recommended!
I'd like to thank teacher Maria, ??? and teacher Siti M for the all the care and attention they gave to our kid. Thank you!
Mon-Fri: 7am - 7pm
Sat & Sun: Closed
Nearby Preschools in Bukit Merah: