Manchester Eyewear
Manchester Eyewear offers a wide selection of eyewear that caters to all age groups. Manchester Eyewear is one of the Three Best Rated® Opticians in Sembawang, Singapore.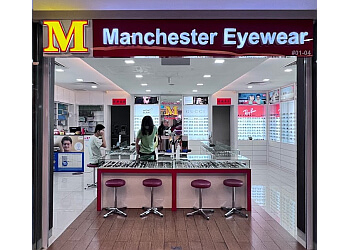 Their staff are friendly and knowledgeable in guiding the correct choice. They have an experienced and highly qualified team to provide exceptional service. Manchester Eyewear provide contact lens fitting services for all kinds of contact lenses. Their skilled staff gives you the best advice on selecting frames and sunglasses. They provide personal care and eye health advice catered to different customers. Manchester Eyewear is committed to offer eye care the highest standards for your specific needs.
Eyeglasses

Sunglasses

Frames

Contact Lenses

Men's Glasses & Women's Glasses
Excellent service! I observed that all the staff are very well trained in their professional knowledge as well as customer service.No pushy sales tactics, patient, attention to detail to name a few of thier qualities. They don't sell u expensive products, they sell products that best suits you(budget,facial features, complexion). The director, Florence is especially attentive and her extensive knowledge will get u the best spectacles!
This is the best spectacle shop that i have been visiting years even relatives and friends went here. Friendly and even has excellent after-sales support. They will tried their to get your customized specs done nicely.
Great customer service from Jasmine. Take time to explain every details and enquires. She was never pushy for us to go for expensive products.
Nearby Opticians in Sembawang: