Magical Eye Care
Magical Eye Care is a one-stop solution for all your eye care needs, providing services. Magical Eye Care is one of the Three Best Rated® Opticians in Bukit Merah, Singapore.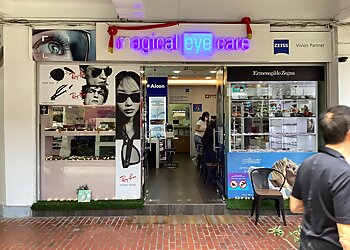 They have over six years of experience in this optical industry. The shop is dedicated to bringing you the best consumer experience with quality services while hosting various spectacle frames and lens options. They have various spectacle frames to choose from, from an economic range to a luxurious range. Magical Eye Care helps you to choose the best eyewear within your budget. They provide quality-assured services and products. Their new outlet and get a free welcome gift, while stock last. They offer a free consultation.
Eye Examination

Glasses

Multi-Focal Soft Lenses

Multifocal Hard Contact Lenses

Lens Solution

Sunglasses

Frames

Men's

Women's

Children's Glasses & Glaucoma Screening
Bryan is highly professional in his job and I received a thorough eye check-up. He went to great lengths to make sure that my glasses were made specifically to my needs and was very friendly throughout the process as well. My Dad made two pairs of glasses here as well and is a very satisfied customer. Great customer service!
Very good service. Friendly n price can b negotiate. The lady boss n the other lady staff, really give u an excellence customer service. Serve u with a smile tho they are busy. U can just dropby n see all the item..without buying..they were always welcome u with a cheerful smile. Thank q magical eye care. This the only shop that i trust..and keep coming back.
Great place to get your glasses, prices are good and the quality 10/10. Good service, very friendly and will take her time to explain in depth more about the product. Great recommendations from them as well. Just come by and experience it yourself ;)
Nearby Opticians in Bukit Merah: