Bleu Castle Montessori Child Care Centre
Bleu Castle Montessori Child Care Centre is a Montessori-based childcare that provides a fun, play-based learning environment for children to grow. Bleu Castle Montessori Child Care Centre is one of the Three Best Rated® Montessori Schools in Toa Payoh, Singapore.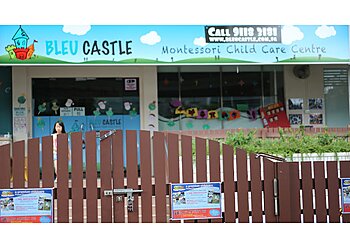 They focus on and employ different methods of teaching for different age groups. They pride themselves on nurturing their children with the necessary life skills and the right set of values every day. The school believes that the children's developmental progress is of utmost importance. They build confidence in every child and learn how to express themselves in whatever way they feel most comfortable. Bleu Castle Montessori Child Care Centre provides the right environment for a child to open their minds and be creative. They use a variety of mediums to enhance their child's creative minds, including speech and drama, music and movements, show and tell and even cooking lessons. Their proven methods have ensured their children are ready by the time they graduate from their care.
Language

Numeracy and Science

Learning

Games

Role Play

Reading and Literacy Skills

Fun Based Activities

Songs

Rhymes

English

Cooking and Gymnastics Lessons

Art

Physical

Cognitive and Emotional Development

Chinese Programm

Show and Tell

E-Craft

Speech

Music

Movements

Drama

Practice Life & Sensorial Materials
Sent my daughter to this childcare. A very loving environment with very dedicated teachers who truly care. It has an open space for outdoor activities (large trampoline, water play, hands-on gardening etc), which the kids really enjoy!
Extremely friendly and loving teachers. A very nurturing environment for my boy. Comes home happy and always full of stories.
I have just enrolled my second son a few months in the Bleu Castle to join his elder brother. He adjusted very quickly! I am truly impressed with the quality of teachers and staff. A very loving environment that focus not only on academics, but more importantly the children's well being. Making sure that they are very much loved and feel secure. - Wing T
Mon-Fri: 7am - 7:30pm
Sat: 8am - 1pm
Sun: Closed
Nearby Montessori Schools in Toa Payoh: