Align Chiropractic
Align Chiropractic is owned by the chiropractor Dr. Align Chiropractic is one of the Three Best Rated® Chiropractors in Tanjong Pagar, Singapore.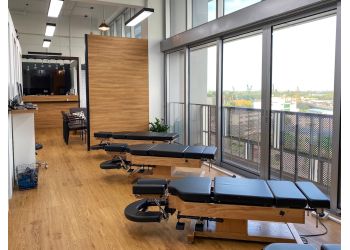 Jason Rutkauskas. He has helped improve the lives of many with his gentle chiropractic care. Dr. Jason offers personalized care to help everyone with their spinal health problems. He is also uniquely proficient in extremity adjustments (hands, wrist, shoulder, hips, knee, & ankle). He is a member of the International Chiropractic Pediatrics Association and the Florida Chiropractic Association. The clinic uses the most effective techniques, including Sacro-Occipital Technique, Muscle Release Technique and Functional Range Conditioning to get the accurate results. In addition, align Chiropractic offers a no-obligation case review to determine if your case is suitable for chiropractic care.
Headaches

Migraine

Hip Pain and Stiffness

Low Back Pain

Low Energy/ Fatigue

Mid-Back Ache

Knee and Neck Pain

Office Worker Syndrome

Poor Posture

Scoliosis

Shoulder Dysfunction

Sitting Discomfort

Sports Injuries & Uneven Shoulders
I have been experiencing pain on my neck and back from a sports injury for over a year. I've tried various methods and treatments but it could not help much. I was recommended by a good friend to Align Chiropractic a few months ago. Dr. Jason and his assistant Shamane are very friendly and professional. Dr. Jason is also experienced and knowledgeable. He has helped to treat my back and neck problems that were caused by the injury. He also taught me to do regular stretches at home to lessen the pain. The pain level has reduced significantly since. I highly recommend Align Chiropractic, definitely the best in town.
Dr Jason and Shamane are friendly and helpful. They make you feel at ease and are always super cheerful. Dr Jason is knowledgeable, and talking to him is like talking to a friend. He's helped me fix my posture and also identified areas where my spine was poorly developing due to poor posture. I've noticed improvements in my energy and x-rays have shown improved development. These weekly adjustments are super helpful!
I frequently have lower back pain due to carry heavy stuff. My friend recommended me to see Dr. Jason. Dr. Jason is very friendly and knowledgable. His treatments helped me to relieve my lower back pain and improved my posture. I'll highly recommend everyone who has the same issues as me to see Dr. Jason.
Treatment: S$100
Subsequent Treatment: S$85-S$100
XRay: S$70-160

Discount
New Patient Special: Get a Consult + Spinal Exam + 1 Adjustment at S$70
Mon & Thu: 8:30am - 7:30pm
Tue: 2:30pm - 7:30pm
Sat: 9:30am - 2pm
Wed, Fri & Sun: Closed
Nearby Chiropractors in Tanjong Pagar: