Alpha Chiropractic Health
Alpha Chiropractic Health is a chiropractic health care clinic in Tanjong Pagar. Alpha Chiropractic Health is one of the Three Best Rated® Chiropractors in Tanjong Pagar, Singapore.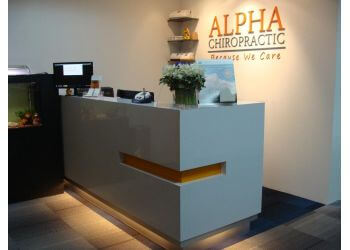 The clinic is one of Singapore's most trusted and reputable chiropractic clinics. The clinic has well-trained chiropractors who treat musculoskeletal problems and repetitive strain injuries. They have tremendous professional skills to identify patients' specific risk factors and treat them appropriately. They focus on the health and well-being of their patients with a patient-centric and drug-free approach. Alpha Chiropractic's team treats many conditions, from poor postural habits to repetitive strain injuries and misalignments on the spine, muscle tissues and joints. Alpha Chiropractic Health has an X-rays facility. The clinic always strives to deliver world-class chiropractic care at affordable prices. In addition, they offer rehabilitation exercises based on their patient's needs.
Headaches

Slipped Disc

Shoulder

Lower Back

Ankle

Back

Knee and Joint Pain

Scoliosis

Sports Injuries

Migraines

Carpal Tunnel Syndrome

Sciatica

Neck Pain/Stiffness

Tendonitis & Whiplash
Dr. Shaan is a brilliant Chiropractor who has helped me with my aches and pains - he has taught me about how to improve my health and this has had a big impact on my life. Would really recommend to family and friends Dr Shaan and the team at Alpha Chiropractic. Thank you so much!
Have been with Dr Gary for years, very good and patient Doctor who listen to your problems and issues and will explain to you nicely what is the cause of the issue. It really helps with all the backaches and tension headaches.
I came with a sciatica problem due to ageing and a bad posture working from home.Thanks to Dr. Jeff, his professionalism and skills, after several sessions I was able to work out again.I really recommend this clinic.
Mon-Thu: 8:30am - 2pm|3:30pm - 7pm
Fri: 8:30am - 2pm
Sat: 9:30am - 1:30pm
Sun: Closed
Nearby Chiropractors in Tanjong Pagar: