Tekong Seafood Restaurant
Tekong Seafood Restaurant specializes in local seafood dishes. Tekong Seafood Restaurant is one of the Three Best Rated® Seafood Restaurants in Changi, Singapore.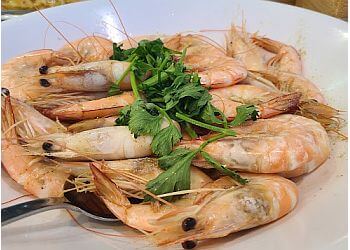 The restaurant is situated in the heart of Changi Village. They have been committed to serving you only the best foods for the last 35 years. Their unique dishes are Buddha Jump over the wall, Pig Stomach Soup, and Suckling Pig. You can enjoy their delicious steamed caipo fish or salted egg yolk crab. They offer a variety of live seafood signature dishes that will take you on a delightful journey of flavours and a memorable dining experience. Tekong Seafood Restaurant serves lobster coldish, fish maw with crab meat soup, and Sashimi Lobster at an affordable price.
MENU: Creamy Butter Crab

Salted Egg Yolk

Deep Fried Prawn Balls

Flower Crab with Dry Curry

Prawn Roll

Fried French Bean

Bamboo Clam

Fried Shark Meat Garlic

Oyster Omelette

Quail

Mussels

Fried Prawn Fritters

Homemade Bean Curd

Haddock

Braised Beancurd

Pork Ribs

Suckling Pig

Braised Abalone & Local Sea Cucumber
Underrated Chili crab. I have had a lot of chili crab in Singapore and this is one of the best spots. The curry is thick, packed with so much shredded crab.
Great venue for hosting seafood dinner if around vicinity with its prevailing crab offers, seasonal fish. Was hosting a birthday dinner while staying at CSC Chalet nearby. Price is similar to seafood restaurant.
Had the pepper crab and it was really good. Friendly staff, clean environment and well-air conditioned. Good option close to Changi Beach Park.
Mon-Sun: 11:30am - 2:30pm |5pm - 11pm
Nearby Seafood Restaurants in Changi: