Pet Lovers Centre
Pet Lovers Centre in Outram has several years of experience in the pet care industry. Pet Lovers Centre is one of the Three Best Rated® Pet Services in Outram, Singapore.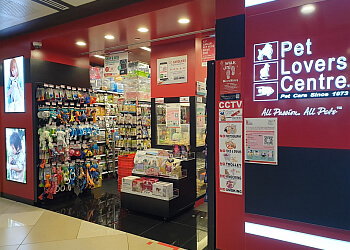 The team ensures that every dog is well cared for and groomed. They have a professionally trained team of groomers in charge of all facets of grooming services. They use all-natural and chemical-free goods ideal for even the most sensitive skin. They have the highest possible grooming services in a safe and comfortable atmosphere. Pet Lovers Centre provides skilled grooming at the most affordable prices. They have a professional and knowledgeable team of dog groomers for all their services. The team ensures to exceed customer expectations. They supply dry dog food to Singapore's police and army canine units. They also provide on-time delivery of product orders directly to the customers' homes. They have over 15,000 products across hundreds of pet care brands. Pet Lovers Centre has over 130 stores across Southeast Asia.
Bathing

Conditioning

Drying and Brushing

Nail Clipping

Ear Cleaning

Shaving of Paw Pads

Pet Relocation and Transport

Cat Litter

Dog Bakery

Fish Tanks to Bird Cages

Pets Store

Food: Dog

Cat

Training

Pet Bonus Plan

Grooming Centres

Pick a Pet & Instant Pet Tag
I feel that, after the donations for cats & dogs, maybe can raise a donation for small animals as well, and maybe a collaborate with guinea pig rescue etc..
The two staffs (Siti and the other handsome guy i forgot name)there are very helpful. Small store with decent variety of choice.
The two staffs (Siti and the other handsome guy I forgot to name)there are very helpful. Small store with a decent variety of choice.
Dog Grooming:
Basic Groom:
Small Dogs from S$42
Medium Dogs S$58
Large Dogs S$78
Full Groom:
Small Dogs from S$78
Medium Dogs S$92
Large Dogs S$128
Just a Bath:
Small Dogs from S$30
Medium Dogs S$40
Large Dogs S$50
Cat Grooming:
Basic Groom from S$80
Full Groom from S$135

Discount
VIP Membership: 15% Off for Birthday Month Savings1 on Regular-Priced Items and Grooming Services with Minimum Spend of $35
Nearby Pet Services in Outram: