Astute Medical Aesthetics Clinic
Astute Medical Aesthetics Clinic is Outram based med spa that offers medical expertise and aesthetic solutions to enhance your desired appearance. Astute Medical Aesthetics Clinic is one of the Three Best Rated® Medical Spas in Outram, Singapore.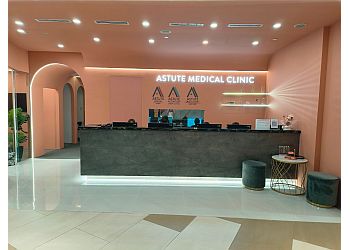 Dr. Jason Pek and Dr. Desmond are the Medical Aesthetics Directoro f Astute Medical Centre. Dr. Jason Pek obtained his post-graduate qualifications from the Royal College of Surgeons (Edinburgh) as well as a Postgraduate Diploma in Practical Dermatology. He received the American Academy of Aesthetic Medicine (AAAM) Certificate in Aesthetic Medicine and accreditation from the Singapore Medical Council (SMC). All their treatments are administered by an experienced team of consultants with a track record in the industry. Their personalised treatment programmes are specially curated to address your face, skin, body, and hair concerns. They focus on enhancing one's natural beauty instead of altering facial features and believe in specially curating treatment programmes that cater to the unique needs of their clients.
Treatments: Pico Toning

Long Pulsed

Dual Combo

Pico Fractional Laser

Dermal Volume Fillers

Trichology Hair: Hydra-Scalp Therapy

Pdrn Dna Booster

Regenera Activa

Award Winning: Hydrafacial MD

Rejuran Needleless / EMS

Venus Legacy RF + MP2 & Calecim Needleless/EMS
Looked around for a good aesthetics place to try to seek treatment for my face freckles/pigmentation. My friend recommended me this place and I started with a trial session and later on signed a 12x package. Not too sure what the results were but the service staff are pleasant and Dr. Chris is very patient to explain my condition and possible solutions. I will recommend this clinic to people who are willing to invest in their skin for treatments as their package can be on the pricier end. But if ok to pay for the service and results, can consider a consultation at the clinic first! I had a session with Dr Jason and was assisted by Giselle and Mandy on the skin booster cocktail. The whole experience was fuss-free and I definitely look forward to the next few sessions and amazing skin.
We have been to few clinics in Singapore and the usual hard selling tactics is quite stressful and the results are not very impressive. We absolutely love this clinic in Astute clinic in Cross street. Their staff Christal and Mimi are genuine and warm and they do not hard sell. They are quite helpful with appointment requests and are very attentive when we are in the clinic. We are with Dr. Gabriel and he is very good with botox and he's honest with what is beneficial to your skin and what is not. Highly recommend this clinic!
Best aesthetics clinic. Friendly and knowledgeable doctors, consultants/nurses and also warm and welcoming. Private rooms for patients for prep for treatments which is great. Treatment packages are also reasonably priced.
Mon-Fri: 11am - 8pm
Sat: 11am - 7pm
Sun: Closed
Nearby Medical Spas in Outram: