MASTER PRATA
Master Prata is one of the authentic Indian restaurants in Singapore. MASTER PRATA is one of the Three Best Rated® Indian Restaurants in Sembawang, Singapore.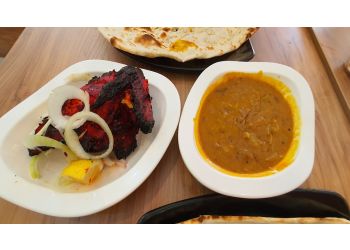 The restaurant has expert chefs traditionally added to give fresh, healthy flavour to make the food memorable. Now, You can experience world-class food from the best Chef in Singapore. Their dining cabins offer a memorable evening if you plan a private family dinner or intimate celebration. Master Prata comes to the aid of delivering delicious food to your doorstep. You can also get Master Prata's delicious food at home through their online ordering facility.
MENU: Mutton

Chicken and Lamb Steak Chops

Thosai

Roti John

Roti

Rice

Omlette

Murtabak

Maggi Goereng

Soup

Naan & Briyani
Master Prata has been me and my wife's place to go for excellent prata, mutton mee goreng, chicken biryani, roti john, mutubak and naan set meals. Basically everything! I would highly recommend going over and have a try. In addition to that, the staff are all well mannered and patient, especially the person making drinks that serves you your drinks personally.
Tried kosong and egg Prata. Texture is different from others. Not the thin biscuit kind. Is decent thickness and outer layer is grilled well enough to be crispy. The default fish curry is served warm and is to my liking.
Prata was very crispy and I love their fish curry omg so thick and yummy. Even the beehoon goreng taste superd.
Roti John & Combo Starts from S$4.50
Special Dishes Starts from S$1.20
Soup Starts from S$6.90
Chops & Steaks Starts from S$7.90
Thosai Starts from S$2.20
Prata Starts from S$2
Murtabak Starts from S$6.80
Nearby Indian Restaurants in Sembawang: