KK Women's and Children's Hospital
KK Women's and Children's Hospital is a long-established Children's and Women's Hospital in Kallang. KK Women's and Children's Hospital is one of the Three Best Rated® Hospitals in Kallang, Singapore.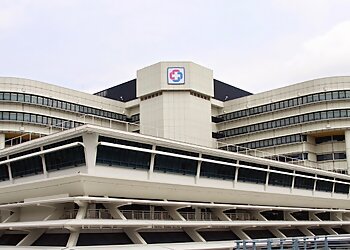 The clinic is committed to providing you with the most suitable and highest standard of medical, nursing and paramedical care. The hospital has 830 beds with state of the art facility. A team of approximately 500 professionals adopt a caring, multidisciplinary and holistic approach to the patients and leverage the latest medical advances and technology to deliver the best possible medical care. They offer tertiary services for women and children to treat high-risk conditions. They treat everyone with dignity, kindness, and respect. They use innovative, new and modern methods of treatment. KK Women's and Children's Hospital offers 24 hours of emergency service.
Cardiothoracic Surgery

Child Development

Dermatology

Diagnostic and Interventional Imaging

Allergy Service

Cardiology

Gynaecology

Paediatrics

Children's Emergency and Children's Ent

Obstetrics

Anaesthesia

Colorectal Surgery

Dental Service & Neonatology
I went for spinal surgery at KKH. The nurses were all very friendly and caring. My anaesthetist calmed me down and talked to me before surgery in the operating theatre and visited me everyday. The surgeon also came to visit on a Sunday, so I was quite touched. When I was wheeled down to get an x ray, I was having really bad back spams and the nurses let me lie down on one of the beds. They tried to comfort me even though they weren't assigned to take care of me. The post- op care is excellent and I would like to say thank you to the fantastic staff at KKH.
My son had a fever during holiday trip in Singapore. I have to find a hospital in the early morning to check up my son after he had a high fever. I come to the hospital, have to take the covid test for my sons and my wife. Only 1 people can go with a baby, therefore i have to stand outside and wait. The fee for emergency i think it's okay. My wife said the doctor check up quick, the nurse is helpful and take care of my sons. Overall, thank you doctors, nurses and hospital that check up my sons.
Singapore's top hospital for children and women. This is the government hospital that most Singaporeans go to driver their babies, if they prefer subsidised health care.
Nearby Hospitals in Kallang: