HJH Maimunah Restaurant & Catering Pte Ltd.
HJH Maimunah Restaurant & Catering Pte Ltd. HJH Maimunah Restaurant & Catering Pte Ltd. is one of the Three Best Rated® Caterers in Geylang, Singapore.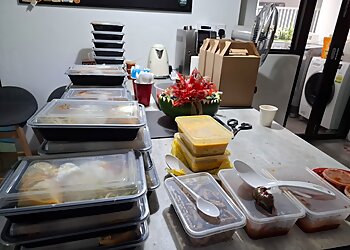 is a familiar Kampung-styled restaurant with a wide range of delicious menus to cater for any event. Since the 90s, the Restaurant has catered to customers from all walks of life in meeting their daily meals, functions and events. A meal at HJH Maimunah Restaurant & Catering will bring you back to the good old days of rustic origin. Apart from enjoying the restaurant food, they also offer buffet catering to suit your events. Their food can be enjoyed right at your doorstep with a wide range of dishes that you can choose from. HJH Maimunah Restaurant & Catering is also known for its fine selection of signature dishes. Try their dishes, such as Sambal Goreng, Tahu Telur, Beef Rendang, and Oxtail Soup, among the more than 40 selections you can choose from at their restaurants.
Birthday

Kids Parties

Mini Buffet

Wedding

Anniversary

House Warming

Baby Full Month and Buffet Catering

Bento Box

Packed Food

Blissful Package

Celebration Package

Ala-Carte

Special Occasions & Corporate Events Catering
Prob the best Malay / Indo food in Singapore! The beef rendang, fish, snail (siput sedut), sambal prawn, chicken (Ayam Merah, Ayam lemak cili padi, Ayam Bakar sunda) are outstanding and when added with their signature sambal (prob the best sambal ever) the taste is guaranteed to explode in your mouth! On top of that the price is very reasonable ($4-5each dish) and service is friendly with NO GST and service charge. One of the best food and best value food I've come across! Highly recommended!
It's the best Nasi Padang you can find in Singapore that offers the most variety of choices. This branch is freshly revamped. Super clean, air-conditioned, fast service and organized. Went there during lunch hour on a weekday. Reached at 1.20pm and queued for 15mins. Left by 2.15pm. Found seats easily. Staff is very friendly and love the vibes.
Full of people dining in to have the tasty variety of tasty food to choose. A very nice and strategic place for family meeting and dining. Had a very nice warm gathering with my in laws relatives after 2 years of MCO. All were superb except for one uneasy experience by my in law, the lack of courtesy when the restaurant is in the busy mode. The best motto for me is that treat your customers like thr kings and quens and you will get your unexpected rewards in no time. The food served were all superdelicious actually.
Bento Box Starts from S$150.00
Mini Buffet Starts from S$247
Ready-To-Eat Starts from S$19
Pastes Starts from S$6
Platter Starts from S$34.90
Deluxe meals from S$10.50
Set Meal Starts from S$8
Appetizer Starts from S$3.50
Staple Starts from S$1.50
Noodles Starts from S$7
Meat Starts from S$7
Fish Starts from S$8
Chicken Starts from S$9
Side Dish Starts from S$6
Vegetables Starts from S$8
Dessert Starts from S$1.80
Drinks Starts from S$3
Tue-Sun: 8am - 9pm
Mon: Closed
Nearby Caterers in Geylang: