Butter Studio
Butter Studio is one of the best bakeries in Singapore. Butter Studio is one of the Three Best Rated® Cake Shops in Changi, Singapore.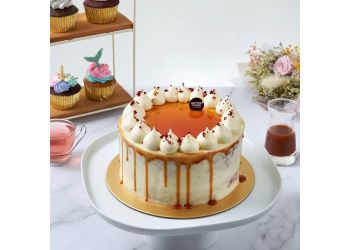 Their beautifully crafted bakes are produced with utmost care and thought. They are dedicated to honouring the tradition of artisan handmade goodness while infusing a uniquely local and playful spin on familiar home-style bakes. They love to create delicious cakes and bakes with an appreciation for the community for all to share with a commitment to handmade bakes in small quantities and to work with well-sourced fresh produce. They take pride in their menu of seasonal, fresh food, which is prepared daily to satisfy your cravings all day long, from freshly baked pastries, breakfast eggs, savoury lunchtime sandwiches, hearty burgers for dinner and decadent desserts. They love to make delicious cakes and bakes with an appreciation for the community for all to share. They'll bring the bakery delivered to you. Enjoy your free Delivery when you order $200 and above.
Gourmet Chocolates

Artisanal Tarts/Pies and Seasonal Treats

Milo Speculoos Fudge Cupcake and Sea Salt Nutella Tart

Iced Teas

Salted Caramel Red Velvet Naked Cake

Butter Loaf Cakes

Mocha

Gourmet Cupcakes

Salted Gula Melaka Cupcake

Cappuccino

Passionfruit

Caramel & Latte
Excellent service from Ms Nur'Afiiqah right from the point of enquiry to the completion of the cake. Ms Afiiqah even updated me on the status of my cake a few days before the delivery date. She even sent me a photo of the finished cake before delivery was made. Even the delivery personnel was polite and handled the cake with care. Keep up the good work!
Staff Ziela took in my order a few days before although its supposed to be at least 1 week and booking was seamless from details to payment. Collection from the staff on duty (unsure if its Ziela) was fast too. Thanks for the cupcakes! Pony cake turned out great and exceeds my expectation. Tasted great too. The kids and us loved it. Thank you n keep it up :))
I'm very happy with the service, the quality of the cake and the craftsmanship, very pleasant to look at and most importantly it taste delicious, all at a reasonable price tag, I ordered the Unicorn Cakelet at $22.90, you can have them write down the message for free but you will need to order few days in advance, highly recommend!
Luxe Prosperity Cupcake Box: S$31.80
Unicorn (short): S$88
Dino Wonderland: S$88
Mermaid Dreams: S$68
Caramel Popcorn Overload: S$68
Chocolate Indulgence: S$68
Birthday Sprinkle: S$58
Salted Caramel Red Velvet: S$48
Ondeh Ondeh: S$48
Lychee Blossom (Korean Minimalist design): S$48
Lady Ispahan (rose, lychee, raspberry): S$48
Chocolate Praline: S$58.
Fancy Nutella: S$48
Nearby Cake Shops in Changi: