Punggol Tutor
'Punggol Tutor' is one of the leading tuition centres in Punggol. Punggol Tutor is one of the Three Best Rated® Tuition Centres in Punggol, Singapore.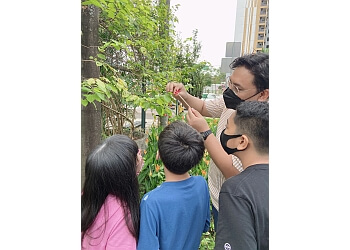 Mr Khalid is the founder of the tuition centre, and his role as a teacher has proven that all of his students have benefited from his unique and effective teaching style. Mr Khalid, a former MOE teacher and MOE curriculum planner, is the founder of the tuition centre. He and his team of MOE trained tutors have proven that all of their students have benefited from their unique and effective teaching styles. He also conducts educational seminars for parents and students with positive feedback. Punggol Tutor is designed specifically to help your child overcome the struggles and turn them into success. There are no 'quiet' moments in a Punggol Tutor tuition class, and they believe that learning should be engaging and active. Experiments, discussions, hands-on activities are part of the teaching here at Punggol Tutor. Referral Discounts are also available.
English

Grammer

Science

Math

Primary School Tuition

Secondary level

Small-group lessons

Maths Heuristic (Upper Primary)

Pure Science (Upper Secondary) & Additional Maths (Upper Secondary)
Under Mr Khalid's guidance , my son has improved his results for both English and Science. Mr Khalid's lessons are lively and fun. My son's results for English and Science has improved significantly. Mr Khalid also include Writing Class for his English lesson. Truly and Highly recommended for those who are staying in Punggol and Sengkang to send their kids to Punggol Tutor. Thank you Mr Khalid.
Words alone cannot express my gratitude for all the time Mr Khalid spent tutoring my son. He was really struggling in Science and felt completely lost and discouraged. But because of Mr Khalid's incredible teaching style, my son now began to love science. Shaquille's results definitely improved under Mr Khalid's guidance.
Glad to have found Punggol Tutor for my son. His results for Maths and Science has improved tremendously. He is now more confident in class with his passing marks and completing his homework himself without my help especially. Thank you Mr Khalid.
Discount
10% off for 2 subjects
15% off for 3 or more subjects
Mon - Fri: 4pm - 8.30pm
Sat & Sun: 10am - 3pm
Other Tuition Centres in Punggol: