Everyday Tuition
Everyday Tuition is an education-based company that offers training and Tuition every day. Everyday Tuition is one of the Three Best Rated® Tuition Centres in Bukit Panjang, Singapore.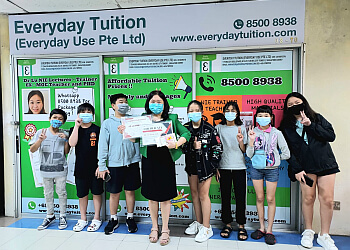 Dr Anngieline Lu is an all-rounder tutor in private Tuition in Singapore. She owns the well-known Everyday Tuition Programme for Primary and Secondary Schools. They aim to work and understand the importance of adapting to the needs and personality of each child, all the while working to achieve tangible results. Their main motive is to provide the best educational services and give personalized attention to all students and overall growth and development. All of their tutors are highly trained, experienced in their respective areas, and have extensive subject knowledge. Most of their tuition teachers are from MOE or well-trained by Dr Lu, an ex-MOE professional trainer of School Teachers. Everyday Tuition also offers additional maths, science, Chinese, and English Tuition for PSLE, primary school, and secondary students.
Chinese

English

Science & Math Tuition
I'm from sec 4NA and have improved tremendously for my English and science results! With dr Lu's guidance for English and teacher Zhi wei guidance for math and science I managed to improve from a grade 5 to 3 for English and grade 5 to 2 for science and managed to score grade 1 for math. This gave me a chance to be able to go for foundation poly and I'm very thankful for that!
Everyday Tuition is rated Top Three in Bukit Timah (also have East Centre and Zoom) and has a badge, a reason why the students do so well with them. Their teachers are doctorates or highly trained track recordcand improvements happen all the time! Happy Parents, Happy Students, Happy Results! THANKS Everyday Tuition!.
Dr Lu does have some unique formula to coach my son, Goshen. He simply enjoyed the dedicated easy to grasp online lesson from her. When we encountered some issues, she was also very prompt and sincere in offering us help. So far we pleased with the service and quality of the lesson rendered. All the best to you Everyday Tuition.
Registration Fee S$30
Lower Primary: English, Maths, Science
One Subject: S$180
Two Subject: S$165
Three Subject: S$140
Lower Secondary: English, Maths, Science
One Subject: S$199
Two Subject: S$188
Three Subject: S$177
Upper Primary: English, Maths, Science
One Subject: S$190
Two Subject: S$180
Three Subject: S$175
Upper Secondary: English, Maths, Science
One Subject: S$210
Two Subject: S$190
Three Subject: S$160
Nearby Tuition Centres in Bukit Panjang: