Stepping Stones Study Centre
Stepping Stones Study Centre is a well-established tuition centre in Bukit Panjang. Stepping Stones Study Centre is one of the Three Best Rated® Tuition Centres in Bukit Panjang, Singapore.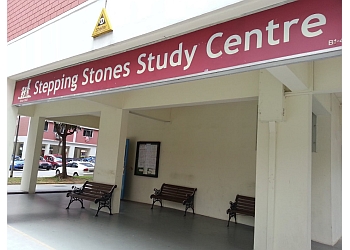 It has been serving the Bukit Panjang community for more than thirty years. Stepping Stones Study Centre provides quality tuition classes in English, Mathematics, Science, Chinese, Physics and Chemistry for students from Primary 1 and all the way to Secondary 5. All of their teachers are experienced, committed and NIE-trained. They provide a comprehensive range of courses to supplement the student's' current school syllabus. Their tutors teach their students how to apply and transfer knowledge and encourage creative thinking. Their materials are prepared in-house and with a touch of genius. They have numerous classes, various subjects and different days of lessons for you to choose from. In addition, the tutor offers assessments and materials by the latest MOE syllabus. Referral Discounts are available.
Kindergarten

Maths

Science

English

Chinese

Essay Writing

Primary and Secondary Level

Composition Writing

Gce O Level Examinations & Group Tuition
During my time in Stepping Stones Study Centre, I have managed to achieve grades that were beyond my imagination. I have gotten a 2 for my English N levels and I am entirely grateful to my English teacher, Mr Wong, for guiding me in this challenging and pressuring journey. Similarly, I have improved immensely in my Mathematics thanks to my patient and pleasant teacher, Mrs Chan. Although strict, Mr Wong is an engaging and fun teacher who is able to make learning not only interesting but easy to comprehend as well. Likewise, Mrs Chan teaches in a personal way differing from each student's learning style. She is extremely calm, tolerant and I really look forward to classes with her. The environment of the classes are comfortable and the interiors are not distracting.
I have been a student of Stepping Stones Study Center of 7 years and went for English classes with Mr Wong. When I first joined the center, I was not doing very well for my English subject in school. However, under Mr Wong's effective teaching methods, I managed to improve tremendously and was able to score an A in English for my PSLE and an A1 for my recent O level examinations. I thoroughly enjoy Mr Wong's classes as he uses interesting methods to help us grasp concepts and remember key points easily. He is a very humorous and friendly teacher whom I will never forget in time to come. Choosing to be a student of Mr Wong is definitely one of the best choices I have ever made. Thank you so much Mr Wong!
In Stepping Stones Study Centre I have met many kind and wonderful teachers. Mr Wong, who is my English tutor has been guiding me for two years. He is a very kind and understanding teacher. He uses fun and interesting methods to teach us and I could never get bored of his lessons. Mr Wong has helped me achieve AL 5. The tuition centre is also quiet which helps me focus better while doing work. Thank you Mr Wong!
Chemistry S$287
Physics S$287
Discount
2 siblings – 5% discount off the tuition fees
3 siblings – 10% discount off the tuition fees
more than 3 siblings – 15% discount off the tuition fees
Mon-Fri: 3:30pm - 9:30pm
Sat: 9:30am - 5:30pm
Sun: 9:30am - 2pm
Nearby Tuition Centres in Bukit Panjang: