The Carpenter's Bar
The Carpenter's Bar is a family-friendly restaurant cum bar in Singapore. The Carpenter's Bar is one of the Three Best Rated® Pubs in Sembawang, Singapore.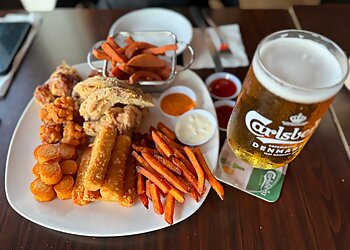 The pub is opened with a simple mission to provide good food and drinks in a comfortable and friendly setting while absorbing all GST and Service charges. They have more than 40 recipe items, three fantastic soup bases, and 80 years of expertise in dynasty chilli. The Carpenter's Bar is a perfect spot to chill out and relaxes after a long day at work. The pub hearts are thrilled at the sight of familiar faces coming back with more family members, children and friends. They guarantee that all their alcoholic drinks are genuine, not diluted and of Top Notch Quality. They serve a wide variety of food ranging from Asian fusion, Oceania cum European, Classic Western to Authentic Thai Mookata. They are happy to share that they have contributed to the environment by using Biopak's sustainable products such as utensils, takeaway boxes and straws.
Sapporo Premium Beer and Oktoberfest Beer

Red Wine and White Wines

Beers

Beverages

Desserts & Apple Cider
Fantastic experience i ever had in singapore restaurants. For bar and cafe experiences this place is best of best. Food excellence. Service great. Even few minutes before last order we dined in due to traffics, they still never miss to give their best service.
Was having a great night at the bar enjoying and CNY songs and spicy sing! Pizza. Classic Platter and charcoal burger are both delicious as well and it's good portion for a small group of friends.
Nice cozy environment. You would never wonder the place is inside a industrial area. Friendly staff and the food is great.
Twin towers Carlsberg at $39 + $39*
Sun-Wed: 12pm - 10:30pm
Thu-Fri: 12pm - 12am
Sat: 1pm - 12am
Nearby Pubs in Sembawang: