Maple Bear Preschool
Maple Bear Preschool is a vibrant and thriving preschool in Bishan. Maple Bear Preschool is one of the Three Best Rated® Preschools in Bishan, Singapore.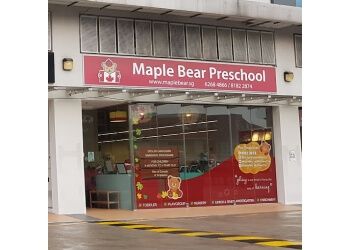 Their mission is to deliver a student-focused learning system in a safe, secure and stimulating environment that prepares students for success at the post-secondary level and that instils a passion for life-long learning. At Maple Bear Preschool, they believe that quality Canadian education can bring positive change in the world by educating future leaders to be critical thinkers and imbuing them with a strong sense of social justice and global citizenship. Maple Bear Preschool's programmes emphasize play and play-based learning as a critical component. They provide continuous professional training and support for teachers. They also conduct events and festival celebrations. The program allows children to create, explore, and discover, and it offers many opportunities to develop their social, emotional, motor, language, and cultural skills.
Language

and Cultural Skills

Communication

Discovery of The World

Critical Thinking

Problem-Solving

Numeracy

Language

Creative

Literacy

Motor Skills

Creative Expression

Emotional

Social & Aesthetic Development
No regrets placing my kid in this school. Miss Anna (teacher), Michelle (Director) and Su Ying (Principal) are amazingly great. I guess this speaks a lot. Moulding and guiding a kid in collaboration is done well here.
Devoted and caring Teachers and mgt, fun school culture with relevant yet interesting curriculum, we will definitely miss this school after graduation and recommend it to anyone in a heartbeat.
Met with Principal and Director of the school. They are great people who are willing to share things.
Mon-Fri: 7am - 7pm
Sat: 7am - 2pm
Sun: Closed
Nearby Preschools in Bishan: