MindChamps PreSchool @ Bishan
MindChamps PreSchool @ Bishan offers premium early childhood education programmes developed by international experts and experts within Singapore. MindChamps PreSchool @ Bishan is one of the Three Best Rated® Preschools in Bishan, Singapore.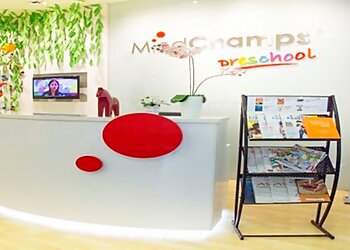 They offer learning and enrichment programmes for children from 18 months to 6 years old at the playgroup, nursery, and kindergarten levels. They provide a cutting-edge curriculum and comprehensive programmes according to their strengths and abilities. The preschool's programme is scientifically designed and uses various engaging and exciting developmentally appropriate activities. MindChamps PreSchool @ Bishan is equipped with an indoor learning environment, a well-equipped children's gym, and a spacious outdoor learning area for some centres. Their curriculum is specifically designed to provide a wide range of experiential activities that prepare children for the change in teaching styles, relationships, environment, and routine when they enter primary school.
Movement

Emotional

Creativity

Writing

Storytelling

Personal

Reading

Mathematical Awareness

Self-Confidence

Social Skills

Talking

Listening

Music

Chinese Language

Social

World Knowledge

Understanding

Creative

Aesthetic Development

Drama

Theatrical Strategies

Languages & Field Trips
Words cannot express our gratitude towards the teachers and staff at MindChamps PreSchool who have been a part of our family for 3 years and counting. Our children have learnt so much and continue to share with us the activities that they did at "school". Their social skills improved, and they have become more confident and independent each day. They developed a rich vocabulary and are progressing well in phonological awareness, Chinese and numeracy concepts. MindChamps PreSchool provides a wonderful, supportive and nurturing environment where children can learn and explore through play. Our elder son, has benefitted from his preschool years at MindChamps – with all the skills that he has gained, he is now a confident child in primary one. We truly enjoyed our MindChamps PreSchool experience and would recommend it to anyone who is looking for a warm and welcoming preschool.
Both my kids are loving every school day with mindchamps@bishan. They have been with other branches but this is the best so far in terms of the school teachers, the directors and cleanliness. It's the little things that the centre directors and teachers do that makes this place warm your heart and that you know they really care about the children. 110% recommend this branch!
My child loved mindchamps, loved going to school and still remembers her teachers fondly. Minus one star for steep fees and for needing parents to spend extra, such as on recorder and violin etc.
Discount
Get 10% Off on School Fees for The First 12 Months
Mon-Fri: 7am - 7pm
Sat & Sun: Closed
Nearby Preschools in Bishan: