Food Republic @ BreadTalk iHQ
Food Republic @ BreadTalk iHQ provides lovely dishes and a luxurious ambience for its customers. Food Republic @ BreadTalk iHQ is one of the Three Best Rated® Food Courts in Hougang, Singapore.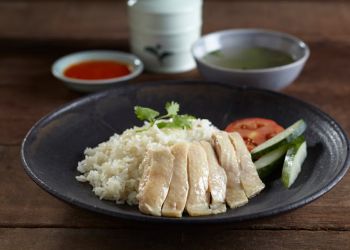 Also, the food court promises a mouth-watering dining experience that stimulates the senses. The food court offers Vegetarian or Vegan options & gluten-free dishes for their customer's requirements. They have a better food selection in this court & excellent seating arrangements available. Their special San Marzano Tomatoes and Pasta De Pizza Dough are freshly made. The food court features many heritage delights to appeal to their love for all things nostalgic. Their dining experience is much more than simply just eating a meal. They have always conceptualised a unique theme for each outlet. Also, they specially planned events and redemption activities from time to time to enhance their customer's dining experience.
Ban Mian

Dry Noodle

Tomato Noodles Soup

Pork Rib

Zha Jiang

Stewed Meat & Seafood-Noodles
Signature hor fun $6.80 comes with 2 prawns, 2 scallops, 2 prawn balls. The taste was yummy with the prawn crackers soaked in the broth Quite salty too.
Food court with indoor and outdoor seating. I had Nasi Padang and milk coffee. There are several good stalls serving quality food here. I particularly like the Lixin fishball noodles (especially the dry kway teow), the Sergeant chicken rice and the roasted meat rice stall.
The food court is located inside the BreadTalk IHQ mall. It is quite spacious with plenty seating spaces -- both indoor and outdoor. It has quite a number of stalls. One of the more well known one is the First Street Teochew Fish Soup. The broth itself is the lighter style (no addition of milk) and the fish slices are quite generous and is very fresh (the slices are soft with no fishiness at all).
Nearby Food Courts in Hougang: