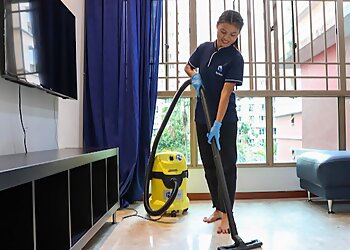 Nimbus Homes stands at the forefront of house cleaning services in Toa Payoh. Their mission goes beyond just cleaning; it is driven by a profound commitment to restoring dignity and creating valuable employment opportunities for individuals, empowering and uplifting them, all while elevating facility standards. Founded in 2017, Nimbus Homes embarked on a mission to revolutionise the perception of cleaning services. Their primary goal is to positively impact by delivering exceptional service while providing sustainable livelihoods to frontline workers who play a pivotal role in their operation. As a social enterprise, Nimbus Homes is dedicated to assembling and nurturing a highly professional and service-oriented workforce. Every member of the Nimbus crew is not only dedicated but also WSQ-certified, armed with extensive training and equipped with state-of-the-art tools and resources, ensuring the highest standards of service quality. Their commitment to excellence extends to their practices in employee management and diversity. Nimbus Homes takes pride in being recognised by the Tripartite Alliance for Fair & Progressive Employment Practices (TAFEP) for their exemplary standards in managing their workforce and their commitment to promoting diversity within their team. Nimbus Homes is not just a cleaning service; it's a force for positive change, driven by a powerful vision of empowerment, improved livelihoods, and impeccable service quality. Their dedication to social impact and professional excellence sets them apart as a leading choice for house cleaning services in Toa Payoh.

UNIQUE FACTS:
• Get A Free Quote
• 3,000+ Customers Served
• 40,000+ Bookings
• 150,000+ Hours Of Service
• Online Estimates
• On-site Services.
Speciality
Bed-making and Bedsheet Changing, Dishwashing, Laundry, Kitchen Cleaning, Bathroom Cleaning, Dusting of Windows, Furniture, Bed Frames and Shelvings, Mopping, Sweeping and Vacuuming & Clearing of Trash
S$ Price:
2 Hours House Cleaning $54
3 Hours House Cleaning $75
4 Hours House Cleaning $100
5 Hours House Cleaning $125
6 Hours House Cleaning $141

Contact:
Working Hours:
TBR® Inspection Report: