United Overseas Bank
United Overseas Bank is one of the most significant Banks in Tiong Bahru, Singapore. United Overseas Bank is one of the Three Best Rated® Banks in Tiong Bahru, Singapore.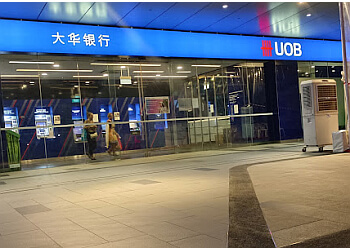 The bank maintains the highest professional and moral standards in dealings with you. United Overseas Bank offers a digital solution that supports simplifying its customers' operations, and its solid regional network connects you to new markets. They have uncompromising discipline, clarity and bravery to do what is right for you and every decision is made in your best interest. The bank offers UOB online account opening promotion, UOB online exclusive cards, Child development account and Property loans online exclusive promotion. With a global network of UOB has 500 branches and offices across 19 countries in Asia Pacific, Europe and North America.
Legacy Planning

Savings

Travel and Car Insurance

Protection and Investments

Corporate and Institutional Banking

ATM

Funds Transfer

Asset Management

Banking (Personal and Privilege

Private

Business

Commercial Wealth)

Treasury Services & Future Broking
Excellent service and support by Richard Chew in my corporate account opening. He was cheerful, helpful and most efficient in providing information and expediting process for me. Satisfied UOB customer as always!
I would like to thanks to your staff Ms Gwen Ong Ler Xian. She come to approached me & offerred help to assist me to open account as the waiting queue is long. She guided me to using online application. Thanks to her that I no need to waste my time to waiting for my queue to be called. Thanks.
All of the staff is friendly and willing to help. Went there today cause of some urgent matter, got directed to an counter which I believe is the manager on duty, got assisted and it all got done fast. Not sure of why there is so many negative comment about, but I would like to give the team working in UOB tiong bahru branch a BIG kudo as they ve been doing their best to assist me starting from the moment I enter the door.
Debt Deal of the Year 2018 - Mobile Banking Initiative of the Year 2018 - Best Bank Awards for Singapore 2021 - RBI Asia Trailblazer Awards 2021
Mon-Sat: 9:30am -4:30pm
Sun: Closed
Nearby Banks in Tiong Bahru: