United Overseas Bank
United Overseas Bank is one of the largest and leading Banks in Tanjong Pagar, Singapore. United Overseas Bank is one of the Three Best Rated® Banks in Tanjong Pagar, Singapore.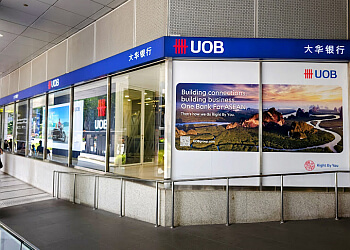 The Bank has a facility to change your limits for transactions like bill payments and funds transfers to suit your needs. UOB Group has over 500 branch offices in 19 countries and territories in Asia Pacific, North America and Western Europe. You can get S$80 case credit when you open an account online and offer UOB cards online exclusive. Spend a minimum amount of about S$500 on an eligible UOB card to earn 0.65% p.a. from your first amount. Plus, make 3 GIRO payments to get up to a 4% p.a. interest rate or credit your salary to get up to a 7.8% p.a. interest rate.
Protection

Investments

Private

Business

Banking (Personal

Privilege

Corporate and Institutional

Commercial)

Personal Loans

Atm

Treasury Services

Future Booking

Car and Travel Insurance

Legacy Planning

Asset Management

Funds Transfer

Savings

Commercial & Business Accounts
My experience at this branch has been a positive one. Came here first time today to cash out new currency notes for CNY. Reservation was in order and the teller at Counter 1 was helpful and accommodating.
Great experience, staff is very courteous and most importantly proactive in their service. I was assisted by Krystal and normally I don't rate bank services. For me customer service with some proactiveness is key to great banking service.
Excellence in Retail Financial Services Awards 2021 - Best Bank Awards for Singapore 2021 - RBI Asia Trailblazer Awards 2021 - Investors' Choice Awards 2021
Mon-Fri: 9:30am - 4:30pm
Sat & Sun: Closed
Nearby Banks in Tanjong Pagar:
HL BANK

7 Wallich Street, #B1-25 and #B1-26 Tanjong Pagar Centre, Singapore 078884

POSB BANK

Block 1 Tanjong Pagar, #01-41/44 Tanjong Pagar Plaza, Singapore 082001
Find More Business