Cooling Aircon Airconditioning & Engineering Pte Ltd
Cooling Aircon Airconditioning & Engineering Pte Ltd is a reliable and professional one-stop station aircon company in Singapore. Cooling Aircon Airconditioning & Engineering Pte Ltd is one of the Three Best Rated® Air Conditioning Services in Geylang, Singapore.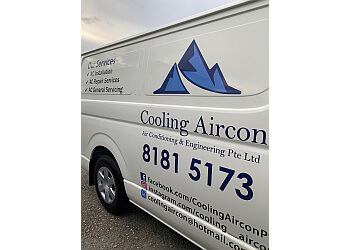 Their mission is to deliver standard aircon servicing and maintenance. They strive to provide the best customer service by exceeding their customer's expectations and promising 100% satisfaction, guaranteeing peace of mind. They are specialized in Aircon Installation, Dismantle, Disposal Aircon Maintenance & Repair Aircon Servicing. They believe that pricing is one of the key factors customers are looking for; as such, they offer aircon promotions with competitive yet affordable prices. They also do offer aircon annual servicing contracts.
Installation

Maintenance

Air Conditioning Repairs

Replacement & Repair of Parts
I've signed up for the basic and advance aircon servicing course. Here, I learnt to general service, chemical service and overhaul my home units. Highly recommend to individuals who are interested to DIY the general servicing of their indoor units at home. For individual who like to go into depth, do consider their advance course.
Mr Sim is a very experienced instructor. Basic and advance courses were conducted very professionally and there was no rush. Explanation was very detailed.
I had signed up for basic maintenance course. Good to learn how to dismantle and install.
1 x WALLMOUNT AIRCON SERVICE:
1 Unit – Promo S$50 (Regular S$70)
2 Units – Promo S$60 (Regular S$90)
3 Units – Promo S$75 (Regular S$110)
4 Units – Promo S$100 (Regular S$130)
5 Units – Promo S$120 (Regular S$150)
6 Units – Promo S$140 (Regular S$170)

ANNUAL CONTRACT SERVICES WALL-MOUNT (4 TIMES SERVICING WITHIN A YEAR) 1 Unit – S$170 (save S$30)
2 Units – S$210 (save S$30)
3 Units – S$260 (save S$40)
4 Units – S$350 (save S$50)
5 Units – S$400 (save S$80)
6 Units – S$460 (save S$100)

Other Air Conditioning Services in Geylang: