7Days Aircon Servicing
7Days Aircon Servicing is a locally owned and operated service provider in Geylang. 7Days Aircon Servicing is one of the Three Best Rated® Air Conditioning Services in Geylang, Singapore.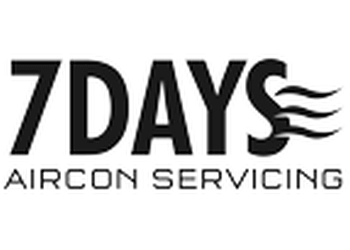 It is certified & insured with numerous years of experience in offering top-notch air conditioning services. They can repair, install & clean your air conditioner easily and effectively. Their crew comprises competent experts who have been in the business for a long tie. As a result, they have broad experience in solving the greatest difficult technical & organizational chores, which permits them to offer you the top service. Their specialists can assist you in selecting the finest products for your comfort & reasonable budget. They try their best to fulfil the requirements of their valued clients. They offer 90 days artistry warranty. If you are viewing for the finest AC servicing & repairing firm in Singapore, you have come to the correct place. Their devoted and reliable specialists serviced over 300,000 customers and diligently assisted you with your AC needs. They offer 24 / 7 emergency services.
General Aircon Services

Aircon Overhaul

Steam Wash

Repair

Installation

Not Cold and Water Leakage

Panasonic Aircon Service

Aircon Chemical Overhaul & Gas Top Up
The team was very professional. The arrangements for servicing was easily done via WhatsApp and the team arrived on time. They did a thorough check of my Aircon system and recommended coolant top up and compressor cleaning as well. First time see my compressor so clean! Best part is the price is also very reasonable. Definitely going back to them again.
Having using 7-Days for regular A/C services for years, they are always responsive and reliable at a reasonable price. Recently i contacted them for emergency services, they responded fast and arranged repair work asap without additional cost. I highly recommend 7-days for their honesty and quality.
Highly recommended! I have been using their services for few years and they have always provided excellent service, fast and effective communication via WhatsApp. Very good company. Technicians are polite and professional. Especially thanks to Jimmy
Other Air Conditioning Services in Geylang: