ENCE Marketing
ENCE Marketing Group Pte Ltd provides marketing conceptualization and inventiveness in Singapore. ENCE Marketing is one of the Three Best Rated® Advertising Companies in Marina Bay, Singapore.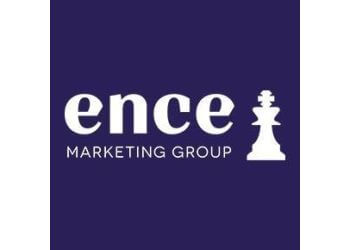 ENCE Marketing was established in 2007. They are experienced marketers passionate about local brands and companies that aim to generate measurable returns for their client's marketing investments. They bring your customer awareness and marketing engagement to a whole new level. Their marketing for return frameworks, you either get results or your money back, guaranteed. Their mission is to help you acquire new customers and create positive brand experiences for your customers. At ENCE, they are experts in marketing, and they do marketing with excellence. ENCE comprises dynamic team members with complementary competencies for the entire suite of marketing needs for businesses. Digital marketers bring their experience, passion and dedication to help their clients develop their brand awareness.
Marketing Budgeting

Public Relations

Events Management

Branding

Marketing Channel Selection and Management

Digital and Social Media Campaign Management and Marketing Copywriting
We find that Angela and her team members are passionate, highly motivated and focused in their commitment to the project we entrusted to them. They are very approachable and resourceful. They are quick to offer many creative ideas when asked for. It's a partnership that's much appreciated and visible.
It is always consider an honour to know their services as well getting to have someone who tailor your needs. Space office they have and it make it feel like you want to work with them. Do check out your marketing needs as well others service that will help to boost your product branding. Talk to them and you will know what I mean!
Angela is a lovely associate. Her aesthetic sense is great and is always flexible to work. Will definitely recommend her and look forward for great works!
Mon-Fri: 9am - 6pm
Sat & Sun: Closed
Other Advertising Companies in Marina Bay: