The Joyous Vet
The Joyous Vet is a full-service animal hospital in Choa Chu Kang. The Joyous Vet is one of the Three Best Rated® Veterinary Clinics in Choa Chu Kang, Singapore.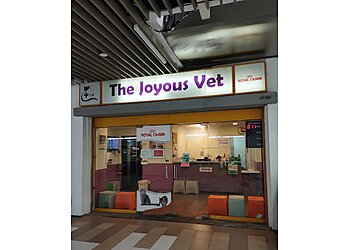 They have years of experience in providing veterinary care services to your pets. They have experienced veterinarians who have advanced expertise in internal medicine or surgery. They are committed to providing medical care and services for their pet community. They are well equipped with spacious hospitalisation wards, X-rays and Ultrasound imaging facilities. They use the latest technology to treat and diagonise the pet's health and illness. Their team of veterinarians is here to provide your pets with the attention and care they deserve. They offer various services to meet your pet's health care requirements. They are dedicated to providing quality veterinary care services to your pets. They provide consultations regarding the health and needs of your pet.
Consultation

Vaccinations

Medical Treatment

Internal and External Lab Tests

Dental Care

Soft Tissue Surgery

Oncology Assessment and Referral

Neutering

Chronic Disease Management

Hospitalization

Ear Cleaning

Nail Clipping

Micro Chipping

X-Ray & Ultrasound
My Syrian hamster appears to have wet tail and dr ho with staff at sunshine have agreed to slot in our appointment last minute. Despite that we have to wait over 1 hour we are thankful. They have too, have to work overtime to accommodate this appointment. Unfortunately my hamster did not pull through. But I'm grateful that they are willing to see us. Thank you.
Hamster had mild skin infection and i was lucky to get an appointment about one or two weeks after i called. Vets that handled Juni were friendly and patient in explaining steps to be taken for a new owner. Her skin got better in a month! It's one of the very few vet clinics in the (west) vicinity. Really lucky to have one near me! Overall pleasant experience, would visit again if needed.
The nurses and vets are always incredibly kind and helpful. I've been going to Joyous Vet for years and I find that they're generally better for pets like dogs and cats. Price is affordable as well. Thank you for the care!
Nearby Veterinary Clinics in Choa Chu Kang: