Ashley Chai - ERA REALTY NETWORK PTE LTD
Ashley Chai is the branch division director of the ERA Realty Network Pte Ltd. Ashley Chai - ERA REALTY NETWORK PTE LTD is one of the Three Best Rated® Real Estate Agents in Pasir Ris, Singapore.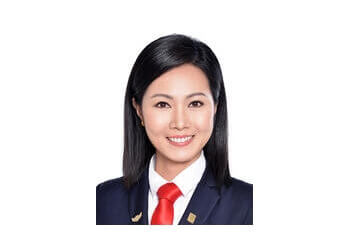 She specialises in HDB and Apartment Sales. She has vast experience in marketing properties and showing. Ashley provides home staging guidance and suggests landscaping changes. Ashley Chai utilises innovative advertising and marketing methods to attract potential buyers. She helps you with everything to make the best real estate choice in your life. She is well-known for her work ethic, personality and post-transaction follow-up. She delivers excellent and professional service by answering clients' questions and thinking from the client's point of view. Ashley helps clients choose the ideal property in Singapore, whether you are an experienced investor or a first-time buyer looking. Ashley Chai serves in Changi / Pasir Ris (D17-18), North (D25-28), Serangoon / Thomson (D19-20), Balestier / Geylang (D12-14), East Coast (D15-16), City & South West (D01-08).
Property Search

HDB

Landed House Sales

Property Viewing

Detached and Semi-Detached House

Bungalow

Industrial

Apartment Rental & Sales
We engaged Ashley for the sale and subsequent purchase of our hdb flat last year. She is very easy to talk to and provided exceptional service. She also managed to schedule many viewings for our house, despite our contraint of weekend viewing only - resulting in a successful sale within 3 months in a declining market. The level of service she rendered is definitely superior compared to some of the other agents we have experienced. We will definitely recommend her to friends who are looking for a property agent.
I recently sold my HDB through Ashley. Being overseas, I needed an agent who was dependable and could deliver best results in a short time and I am happy to say that I made the right choice. She was very professional and efficient in her work. Her help in managing my HDB during my absence was invaluable and she kept me informed throughout the sale process. I would highly recommend her to anybody.
Ashley delivered excellent and professional service by answering all my questions and thinking from my point of view. She is not only an honest and patient agent, but also a trustable friend. I would not hesitate to recommend Ashley.
SEAA's Salespersons Achievement Award (Gold) 2020 and 2021 - SEAA's Salespersons Achievement Award (Platinum) 2022 - ERA Top 100 (55th position) Achievers Q1 in 2017 - ERA Top 100 (71st Position) Achievers Q3 in 2014 - ERA Asia Pacific Elite Award Winner
Nearby Real Estate Agents in Pasir Ris: