Yunnan General Supplier
Yunnan General Supplier has over 40 years of experience in printing services. Yunnan General Supplier is one of the Three Best Rated® Printing Companies in Jurong West, Singapore.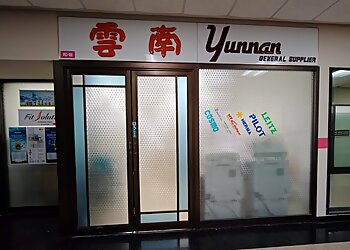 The company offers a full range of business office supplies and office services. They specialise Full-Color Digital Print & Large Scale Plotting Services via E-Mail (Up to A0 Size). Yunnan General Supplier provides free delivery to offices and home offices in Singapore (minimum value applies). They are proud of having both equipment types at their location and expertise using the latest software and the most sophisticated sign and printing tools. Yunnan General Supplier can ship orders outside Singapore.
Digital Print

Scanning

 Colour Copy Printing

Photocopy Service

Office and Stationery

Name Card

WaterproofPVC Stickers

Catalogues

Label and Labeling Products

Hard Cover Books & Envelopes
Although the shop is not on the main road, it has staff that will open the door for you and see that you are comfortably attended to. I was so surprised and happy to be served by not 1 staff but by 2 staff immediately. I have also asked and got the cheapest possible price list for the rubber stamp that I have made and despite being accused of taking my plastic bag with 2, Originals to photocopy, they kept a level head and avoid any argument with me. Thanks so much for your help, understanding patience and valuable time you have given me to explain to the public your well trained and professional business attitude. Kudos to you, ladies.
Love this place! We always enjoy popping by to get our stationary necessities(parking is easy) and enveloped in the nostalgia. The cool store looks like it hasn't changed since the 90s and its interior brings us a lot of good memories. They always have what we need and more, we always end up spending more time than we expected.
Mon-Fri: 9am - 7pm
Sat: 9am - 3:30pm
Sun: Closed
Nearby Printing Companies in Jurong West: