Copylab Pte. Ltd.
Copylab Pte. Copylab Pte. Ltd. is one of the Three Best Rated® Printing Companies in Geylang, Singapore.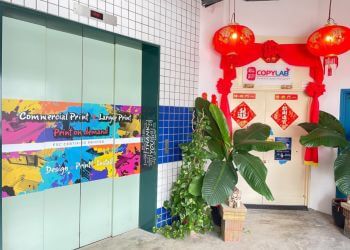 Ltd. is one of the best printing companies in Geylang & Surrounding Areas. The company provides unique artwork and layout planning with offset and digital printing to cater to their clients' various needs. They also offer their clients a wide selection of services, including large format layouts such as glass stickers, wall stickers, posters and banners. The company provides a range of top-quality, cost-effective printing services. They have years of experience creating printed items using many methods for customers in different niche markets. Their product selection is both diverse and extensive. Irrespective of the range or the type of product you purchase, you can rest assured of one thing. They offer 24/7 technological advancements coupled with strong growth of social media is increasingly putting image and reputation. They are always willing to go the extra mile to ensure you are satisfied.
Business Cards

Digital

Booklets

Tickets and Vouchers

Brochures

Envelope

Magazine/Newsletter

Photo Books and Menus Offset

Flyers

Paper Folder

Desktop Calendars and Letterheads Printing

Large Format

PVC Banners and Stickers

Binding

Finishing

Plan

Signs & Posters Printing
Had some presentations printed and bound, as well as some greeting cards. Walked in and was looked after immediately, both courteously and professionally. After all options had been discussed, I could have just left a deposit, but I decided to pay in full by credit card and have the finished products delivered. Everything was ready the next day and delivered without a hitch. Am very pleased with the result and the quality of the printing. Will certainly return for my future printing needs, as this was truly a job excellently done!
I visited the office to print out only a few pages of documents for job application. definitely the company wasn't there for such a small and not money-making business, but all the staffs there helped me with it kindly. And the fee was definitely much cheaper than normal photocopy shops. It was a delightful experience.
At last found a print company is a sustainability print company, their using recycle paper, soy ink, Bio-grade equipment. Our company had been using them for sometimes.
Mon-Fri: 9:30am- 6:30pm
Sat: 9:30am - 1:30pm
Sun: Closed
Nearby Printing Companies in Geylang: