Taka Jewellery
TAKA Jewellery is one of the leading jewellery shops in Jurong West. Taka Jewellery is one of the Three Best Rated® Jewellers in Jurong West, Singapore.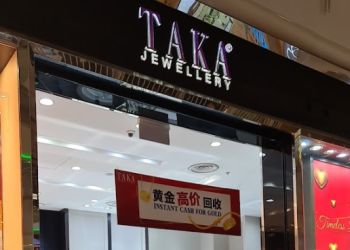 TAKA Jewellery was founded and established in Singapore in 2001. The jewellery shop has an extensive range of items and designs: classic solitaires for everyday wear to coloured gemstones and designer statement pieces for parties or functions. They offer a host of exciting challenges where people play a vital role in its success. The brand recently launched its 916/999 gold collection at competitive prices, again ascertaining its promise to provide value for money jewellery to customers. They also conduct a Taka jewellery rewards program. They have skilled staff who are enthusiastic, passionate about their work. Apart from the local retail scene, TAKA Jewellery is also an active participant in the international wholesale market, one of the biggest exporters of diamond jewellery from Singapore.
Necklace

Ring

Bangle

Bracelet

Brooch

Pendant

Earrings

Hoop Earrings

Wedding bands & Engagement Rings
Genuine affordable jewelleries for all ages and budget. Factory outlet price. Worth checking it out when you are in Jurong Point.
taka is a good place to find some jewelry but really needs time carefully selecting.
If you want a wedding ring ???? just pay a visit at this place ????
Earrings start from S$139.00
Pendant starts from S$28
The necklace starts from S$78

Nearby Jewellers in Jurong West: