E-Care Auto Services Pte. Ltd.
E-Care Auto Services Pte. E-Care Auto Services Pte. Ltd. is one of the Three Best Rated® Auto Repair Shops in MacPherson, Singapore.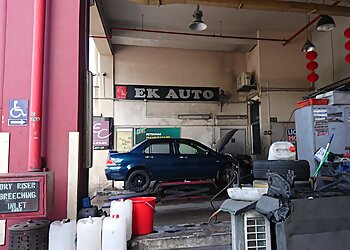 Ltd. is one of Singapore's most trusted auto repair shops. They deliver comprehensive car repair and maintenance solutions at competitive rates. Sam is the owner of E-Care Auto Services Pte. Ltd. The skilled repair and maintenance technicians ensure high-quality professional workmanship to help customers fix all their car-related problems. Their technician's team can provide repair work for all vehicles, including commercial vehicles (vans & lorries). They specialise in Mercedes Benz. They utilise genuine spare parts. In addition, e-Care Auto Services Pte offers 24-hour towing services & other services.
Motor Care Repairing

Fleet Maintenance

Insurance Claim

Car Engine Oil Booster

Vacuuming

New/Used Car Dealer

Scrap & Car Finance
Good workmanship and fast job! Guys there is very experienced and knowledgeable too!One of the more affordable workshop in ubi as well.Loyal customer since their opening!
Great service. One of those rare places where they'll listen to your concerns about your car, cure the fault and not overcharge you. Look for Louis or boss Sam...
The staff Mr HUI is very helpful and finish my car maintenance professionally. It is worth to come again.
Mon-Fri: 9am - 6pm
Sat: 9am - 2pm
Sun: Closed
Nearby Auto Repair Shops in MacPherson: